I Made $4056 in December 2020

Posted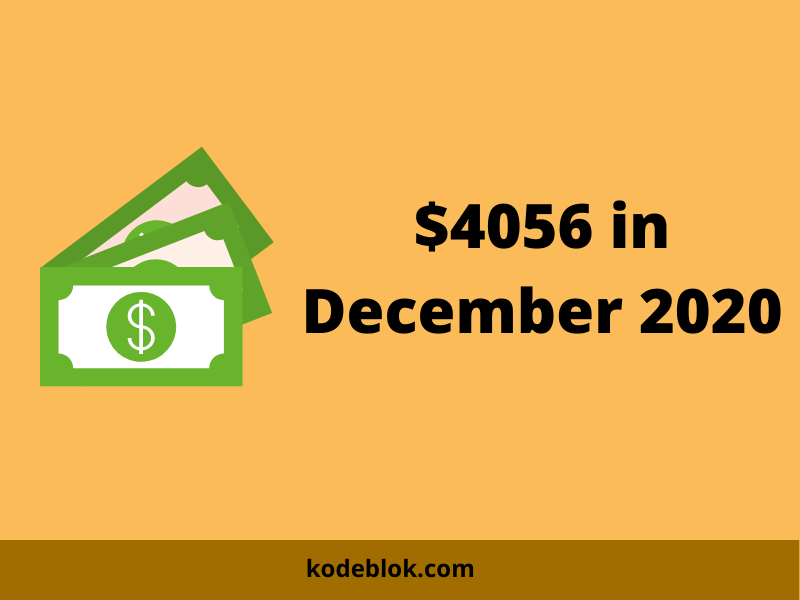 December was a wild month.
Good news is my biggest client raised money so I raised my prices.
Bad news is that two of my clients went under the radar after the first week.
Let me tell you all bout it.
TL;DR I made $4056 for 85 hours of work on three different projects. I don't have any other projects in pipeline.
Projects
Client #1 ($3468 for 45 hours of work)
If you remember from my last update, I've mentioned that Client #1 is getting funded by some San Francisco big shots.
Now that Client #1 is a big boy company, it's time to restructure our deal since I've been undercutting my rate.
We've agreed that I'd work for them three days a week for a $1200 weekly retainer which sounds like a good deal to me.
I also got a $500 bonus for working long hours and a weekend in order to wrap up a project for our biggest customer.
It's really satisfying when you're putting in the hard work and your clients sincerely appreciate it.
Client #2 ($280 for 8 hours of work)
Another slow month for Client #2.
Got some work at the start of December and radio silence for the rest of the month.
Client #3 ($307 for 8 hours of work)
Same as Client #2. Got some work and then radio silence.
It's worth noting that he opened up a shop with clothes related to his project so he decided to send me a T-shirt as sign of thanks!
Future leads
I've expected more work from Client #2 and #3.
I've had days where I had nothing to work on.
Maybe it's because it's the holiday season and everyone is pretty chill but I'll be on the lookout for another client.
I've already talked with some interesting people and but don't have anything concrete in place.
Conclusion
Signed a retainer with Client #1.
Not a lot of work from Client #2 and #3.
On the lookout for another client if I don't get busy the next couple of days.
If you want to read these updates as soon as I write them, you can sign up for my newsletter.
Want to read previous updates? Visit Archive.
Support
ETH: 0x85C2572E76BD97BbFA27Ce28C019CB2CecFd9e47
BTC: 1Dgnt2BcnNd4z3ZP3UwBcV26gerqF1tKK4
BCH: qz9jsp7rnq9ec9xlr8ajy632zuulc4s3rgmtqsslc7
VET: 0xEAC5636F9344f24691D92193319385b43F1AaD2D
Thanks, Adem