Best Tools for Freelancers in 2020

Posted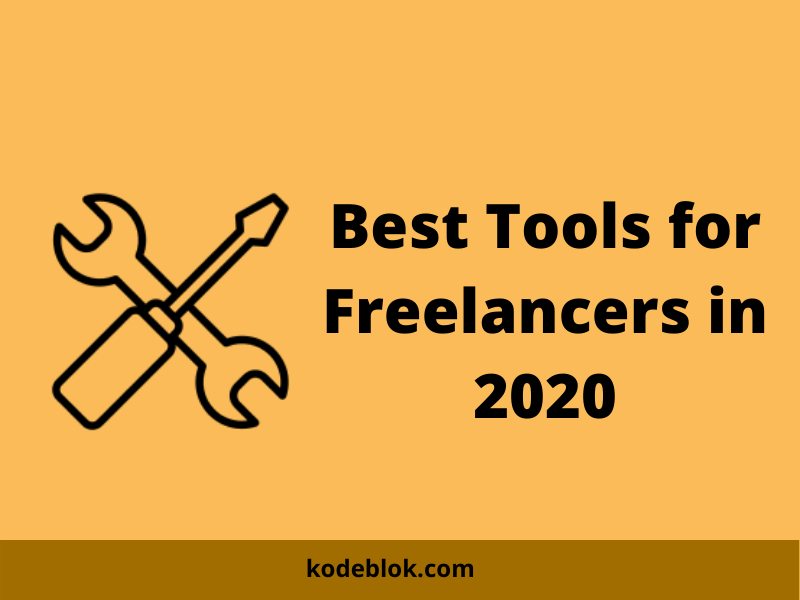 DISCLAIMER: This post may contain "affiliate" links to products and services I recommend. I'll receive a small commission if you decide to purchase one of these products or services. I only recommend products I genuinely believe will help you in running your freelance business.
Being an adult is not easy. Being an adult and being a freelancer is definitely not easy.
As much as I would like to code the whole day that is not possible. Roughly 30% of my time goes to communication with clients, planning the projects and dealing with taxes.
Thankfully there are a lot of smart folks out there that make our lives a tiny bit easier.
Below you can find the best tools for freelancers in 2020.
If you don't want to read the whole article, that's fine. At the bottom of this article, you can find a table with all of the products that I will mention in the following sections.
Time Tracking
Out of all these activities, time tracking is the only one I do daily as a freelancer.
I have a very bad habit of not knowing when should I stop working.
Tracking my time helped me out with this.
I also like to send a time sheet at the end of each month to my clients for extra transparency.
Here are some time tracking tools you should be using in 2020.
Cost: Free
Platforms: Web, Browser Extensions, Mobile
Before we start let me tell you a short story.
While I was still slaving around on Upwork I used their official time tracker. Upwork time tracker is one of the reasons why I left the platform. It takes a screenshot every ten minutes and sends it to the client that I am working for.
That's insane! It violates my privacy and makes me feel that the client doesn't trust me.
When I started freelancing on my own, I needed something simple to track my hours.
I send my clients a report of how many hours I've worked that month. So I also needed something that can generate a timesheet at the end of the month.
After a while, I've stumbled upon Toggl.
It's a lifesaver.
They have a pretty simple interface that lets me do the stuff I need. For free!
They also publish super-awesome comics on their blog.
Cost: Free
Platforms: Web, Desktop, Mobile
Besides Toggl, I've used Clockify for a bit. It's pretty neat. Used it a couple of times but I'm too used to Toggl and there is no particular reason to switch.
Cost: $19 per month
Platforms: Web, Desktop, Mobile
You will see me mention Bonsai a couple of times in this article. That's because Bonsai is a whole suite of tools for freelancers in one place.
As with Clockify, I've tested Bonsai Time Tracker but there's no reason for me to switch from Toggl.
Note that $19 a month is not just for the time tracker. Bonsai is used for a lot more. More on this in the rest of the article.
We'll talk about the accounting part a bit later in this article.
Accounting
Over the years I've used various accounting apps. Since I'm based in Bosnia and Herzegovina a lot of these tools don't help me that much. I've been using them mostly for generating custom invoices for my clients.
Cost: Free
Platforms: Web, Mobile
Zipbooks is the first accounting app I've ever used. It's not bad if you don't mind having their brand on your invoices (which I don't). You can remove them by buying their $15 a month subscription but ut's not worth it for me.
Cost: $15 per month
Platforms: Web, Mobile
I've tried out Freshbooks for a month.
"But Adem, didn't you say you wouldn't pay for software to just create invoices?"
Great question.I didn't know I had to pay for it. I was thinking it was free (they have a free trial).
But from what I could see, Freshbooks is on another level up from Zipbooks.
For $15 a month they give you a ton of features like:
Invoice generator
Expenses tracker
Time tracker
Project management tool
Payment processor
CRM
But again, I'd use just invoice generator so it was not worth $15 a month for me.
Cost: $19 per month
Platforms: Web
I use PayPal to generate my invoices for my clients.
With that said, if I had to choose a tool to generate invoices for me other than PayPal then it'd 100% be Bonsai.
Bonsai brands itself as a #1 product suid for freelancers and it shows.
With Bonsai you can:
Generate contracts and let your clients sign them with e-signature
Create branded proposals with multiple packages
Manage your client list and collaborate with other freelancers
Track your hours with their time tracker that integrates with the rest of the suite
Control your finance by tracking your expenses and estimate taxes
Qualify your leads with Bonsai forms
And you get all of this for $19 a month.
Bonsai is definitely the best tool for freelancers in 2020.
Note Taking
Have you ever had a great idea for your next project before you went to sleep but couldn't remember it in the morning? I know I had.
Luckily, there are more than plenty of note taking apps on the market to help you remember your "next Facebook".
Cost: Free
Platforms: Web, Mobile, Browser Extension
Despite being Google's product, Google Keep is one of the best apps I've used in my life.
Why? It's super light-weight, super simple and minimalistic and it's cross-platform so when I make a note on my phone I can access it on my laptop.
Cost: Free
Platforms: Web, Mobile, Browser Extension
If you need something a bit more advance than just a note taking app, I'd recommend you Evernote. It's just amazing what people do with it.
Some features of Evernote that aren't available in Google Keep are:
Handwriting recognition
Speech-to-text
Templates for user-cases other than simple note or to-do
PDF Search
Note that some of these features are available only on a premium plan which is $7 a month.
Evernote is pretty cool but too advance for my needs.
Cost: Free
Platforms: Web, Mobile, Desktop
One of my clients is using Notion as a knowledge center. It's pretty cool if you're working in a team.
Besides taking notes you can use Notion for:
Building Team Wiki
Project management
Build websites
Create knowledgebase
Communication
Good communication is key to the success of any project.
Here's what I recommend you use.
Cost: Free
Platforms: Web, Mobile, Desktop
Slack is a communication platform launched back in 2013.
Over the years it became a de facto app for any team when it comes to communication.
Slack didn't create anythng new. In face, a lot of people said they can do everything Slack does with IRC.
And they're right.
But Slack created a nice-looking UI.
Slack integrates with over 2000 other apps.
Slack listens to it's users.
That's why Slack is more popular that IRC.
Cost: Free
Platforms: Web, Mobile, Desktop
Although Slack is super-useful it does have it's drawbacks. One of those drawbacks is that Slack allows you to see only the last ten thousand messages in a channel or private conversation if you are a free user. They lift this restriction once you start paying Slack $8 a month per user.
That means if you have a five-person team, Slack will cost you $40 a month. This is too much if you're working on a project with a tight budget.
Enter Discord.
Discord is very similar to Slack. Slack is intended to be used in a business environment while Discord is more oriented towards gamers and the younger public.
But deep down, besides having different UI, they are the same app.
Discord has an advantage over Slack in the regard that it's free for every user forever.
Cost: Free
Platforms: Web, Mobile, Desktop
The third alternative is to use Skype.
Not going to lie to you, I've worked with Skype and I'm not too impressed. It definitely has its flaws.
But if your clients are not comfortable using Slack or Discord, the next best thing is to use Skype.
Miscellaneous
In this section, I'll list out a couple of apps that I couldn't fit in any other category.
Cost: Free
Platforms: Web, Mobile, Desktop, Browser Extension
English is not my native language.
It's not uncommon to see me make grammatical or spelling errors.
I use Grammarly to save me from embarrassing myself. It's a life-saving.
Cost: Free
Platforms: Web, Desktop
Grammarly fixes most of my grammar issues.
But just in case, I like to use the Hemingway App to double-check.
Hemingway App is a free online text editor that focuses on making your writing more clear and does a more thorough check on your text.
It catches stuff like the use of passive voice or warns you when sentences are too hard to read.
Conclusion
Below you can find the table with all of the mentioned products and their prices.
A good tool improves the way you work. A great tool improves the way you think.